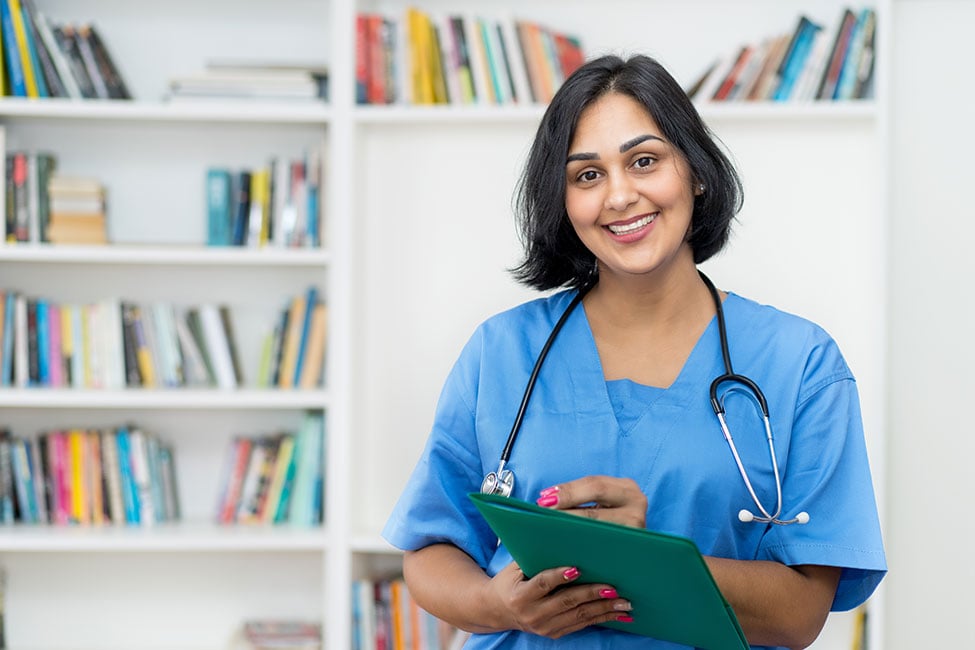 What is an International Healthcare Professional
Nursing and allied health care jobs in the United States provide generous benefits and excellent opportunities for career growth. International nurses have extensive experience in multiple countries abroad, and are open to coming to grow their careers in the U.S. In light of the high demand for qualified nurses and the shortage of healthcare professional in the U.S., international nurses can be a win-win for both healthcare facilities and the nurses themselves.
About International Nursing and Allied Work
Gillian Williams, Senior Director of Clinical Operations at O'Grady Peyton (AMN Healthcare), is a former international nurse who also came to the U.S. with O'Grady Peyton 17 years ago. Gillian shared, "An international clinician comes from any international location and is not originally from the U.S., typically was not trained in the U.S., and typically has never worked in the U.S. before. International nursing [and allied healthcare professional work] encompasses so much more than just the work. It's not just a nurse coming off a plane and going to work in a hospital. It takes years of dedication and effort to meet all the requirements from an immigration and experience standpoint."
What are the Duties of International Clinicians?
The duties of international healthcare professionals are the same duties and responsibilities of any other staff RN or allied healthcare professionals like medical technologists in the United States. International nurses must also take and pass the NCLEX in order to obtain a license to work in the U.S. and to go through the interview hiring process.
What are the Salaries and Benefits of International Clinicians?
A major attraction to international nursing and allied work are the benefits, many of which go beyond monetary compensation. The salary of international healthcare professionals is comparable to the competitive salaries earned by core staff at hospitals.
With O'Grady Peyton, international healthcare professionals also receive comprehensive insurance benefits, including medical, dental, vision, short-term disability, life and accidental insurance, and free professional liability insurance. They also receive retirement plans and free continuing education and professional development benefits.
O'Grady Peyton provides relocation support, including travel and living arrangements, setting up childcare, supporting employment for spouses, and more. Learn about the personal support that healthcare professionals with O'Grady Peyton receive.
Where Do International Clinicians Work?
"International clinicians can work in large metro areas, quaint suburbs, and everything in between. There's something for everyone," said Amy B., a recruitment manager with O'Grady Peyton.
"The majority of the work is in acute care," shared Senior Director, Immigration, Licensure & Credentialing, Michelle K. "Clinicians work at acute care hospitals across the country, as well as outpatient and inpatient dialysis centers, standalone emergency departments, and long-term acute care areas," Gillian added. With O'Grady Peyton, healthcare professionals typically work for around two years at their home facility, and their managers usually prefer to hire them on as their own staff at the hospital once the O'Grady Peyton contract has ended. This enables the nurse and family to have a long-term home to settle in with their families.
"A major benefit to the hospitals and the communities are the beautiful cultures that international clinicians bring with them," added Amy.
How to Become an International Clinician?
Deirdre O., Senior Director of Recruiting and Operations at O'Grady Peyton International, explained, "To be an international nurse, you must be a registered nurse with a desire to work in the U.S. From a technical standpoint, you need to have passed the NCLEX and pass an academic English exam where appropriate. There are some countries that don't require it. If you pass the NCLEX then you qualify for U.S. licensure." To work as a medical technologist in the U.S., you need to have your ASCPi certification and pass an academic English exam where appropriate.
Some of the soft skills or qualities that nurses should possess are adaptability, that they're personable, have emotional intelligence, and good communication skills.
Interested in Becoming an International Clinician?
If you are a clinician interested in bringing your professional services to the United States and have strong interpersonal skills, we encourage you to apply today using our quick-start application.