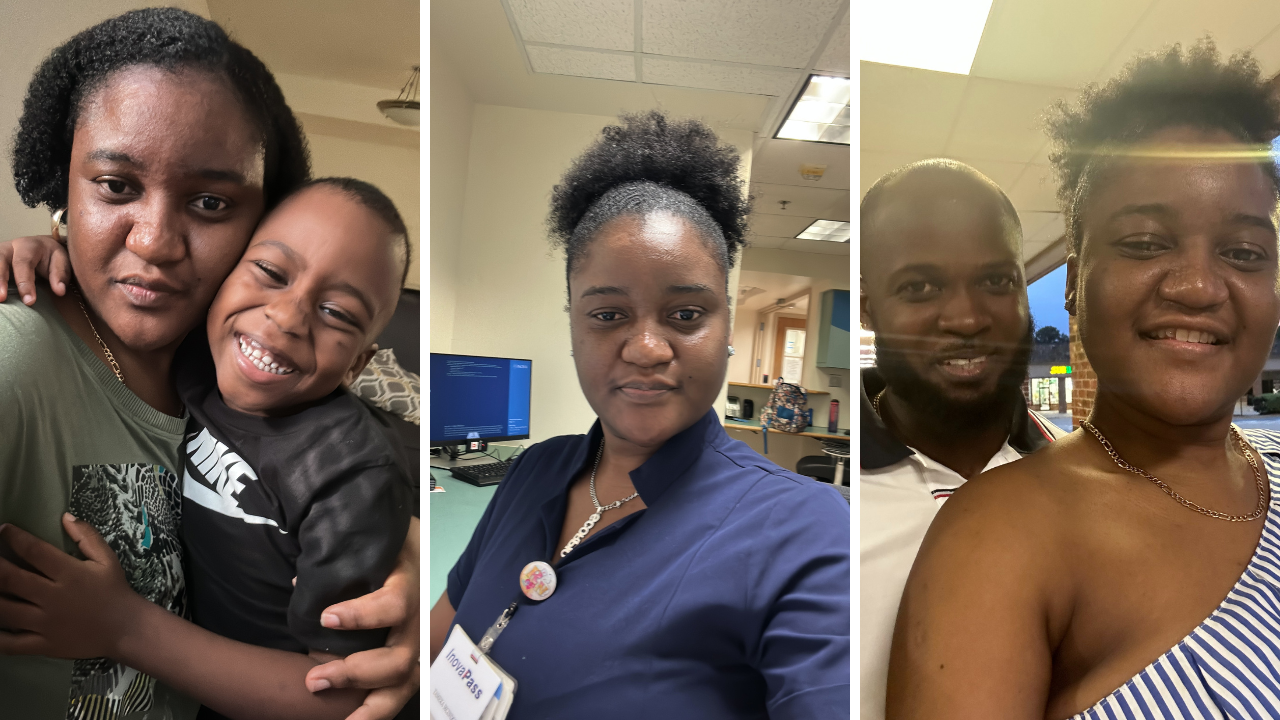 Tameka McIndoe, O'Grady Peyton Nurse, Wins DAISY Award®
The DAISY (Diseases Attacking the Immune System) Award® was created to thank and honor the exceptional work nurses and nurse leaders do for patients and families every day. In partnership with the DAISY Foundation™, we are proud to recognize AMN Healthcare nurses for their unparalleled compassionate care.
This September, we're delighted to recognize Tameka McIndoe, an R.N. specializing in Med-Surg Telemetry.
Meet Tameka McIndoe, R.N.
Tameka McIndoe, R.N., is a passionate international nurse from Jamaica currently on assignment at a leading women's hospital in Northern Virginia. Ever since a hospitalization as a child, Tameka knew she wanted to be a nurse to make other patients' experiences better. She has been a nurse for seven years, helping others during their most vulnerable times. Tameka is a kindhearted, patient woman who loves nature, music, and movies.
Why do you love being a nurse?
I love being a nurse because there are so many things I can do for my patients in nursing. Every shift I get to advocate, educate, support, and uplift my patients. It brings me joy, especially when I see my patients getting well and ready for discharge.
Impactful Kindness and Quiet Strength
Tameka's nomination came from her team at her facility. Their explanation is compelling:
"Tameka McIndoe, an international nurse from Jamaica, joined our team last September. Tameka is currently working on 5 Original, a med tele unit, where she has made a significant impact with her excellent skills. Despite her soft-spoken nature and reserved demeanor, Tameka possesses an unmatched powerhouse of dedication, skill, and kindness. She has a unique way of letting her actions and care speak louder than words, bringing a sense of calm and focus to our busy unit. Tameka pays attention to every detail, ensuring that every aspect of patient care is handled precisely and gracefully. Her vigilance has helped prevent many issues from escalating. Tameka's kindness is inspiring. She brings compassion to her work, providing comfort and solace to patients and their loved ones. She balances professionalism with warmth and humanity seamlessly. Tameka's contribution to our team has created a tighter bond, and her willingness to learn and share insights fosters an environment of growth and innovation. I am happy to nominate Tameka. Her quiet strength, attention to detail, heartfelt kindness, and commitment to growth make her a shining exemplar of the nursing profession."
Learn more about the DAISY Award®
We provide on-going recognition of all our clinicians, and one way is presenting the DAISY Award® to four nurses and two nurse leaders every quarter. To learn about the winner methodology and to nominate an AMN Healthcare nurse, visit our Daisy Award page.