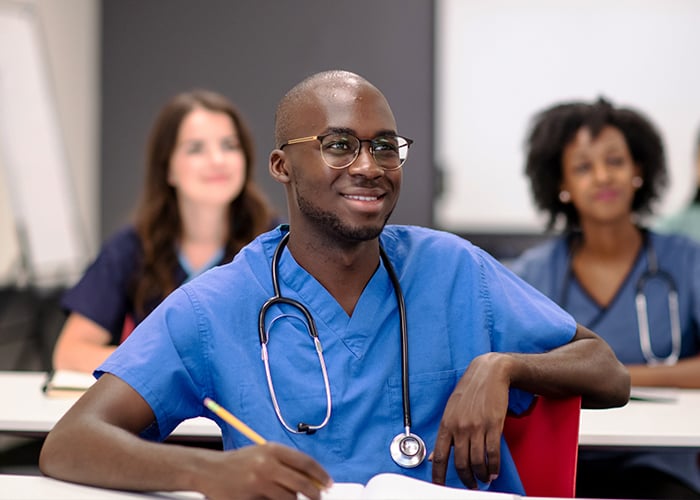 O'Grady Peyton Nurses Win DAISY Award®
The DAISY (Diseases Attacking the Immune System) Award® was created to thank and honor the exceptional work nurses and nurse leaders do for patients and families every day. In partnership with the DAISY Foundation™, we are proud to recognize AMN Healthcare nurses for their unparalleled compassionate care.
This quarter we recognize Erika Tilaon, RN and Averia Coke, RN, who each won a DAISY Award for their work as medical-surgical nurses (med-surg).
Meet Erika Tilaon, RN
Erika has worked in the nursing profession for nearly fourteen years. Ever since she was young it was her dream to become a nurse. She believes that nursing is a noble profession, and finds being in this field fulfilling and rewarding. Her nominator described her as a "ray of sunshine" and the "sweetest and best nurse I've had so far".
Why do you love being a nurse?
"Being a nurse gives you a chance to interact with different people every day. I have been exposed to a more diverse cultures, races, and religions. It gives me the opportunity to apprehend a variety of traditions and values other than my own. What I relish about nursing is when you have the opportunity to take care of a vulnerable group of people, going above and beyond to make them feel better, in return those patients appreciate and value what you do, and you become part of their lives and journey."
Meet Averia Coke, RN and Nurse Leader
Averia has been a registered nurse for almost six years, and her nominator described her as "the captain of the ship on night shift". When she was younger, she thought she wanted to venture into business, but when she saw a lot of death and medical conditions in her family, she was drawn to nursing to help others and make a difference. Her nominator shared, "Averia is a true leader. She incorporates teamwork as the staff face many challenges on night shift. Her clinical skills and knowledge are invaluable to the nurses under her leadership and a source of comfort when problems arise." Averia proudly says that she would not change her career for the world.
Why do you love being a nurse?
"I love being a nurse because nursing is dynamic. I am given the opportunity to help, comfort and empower patients and their families with knowledge about their condition. Along the way, this helped me develop a rapport with patients and their families. Helping others motivates me to learn more and expound my knowledge about new conditions and diseases."
Learn more about the DAISY Award®
We provide on-going recognition of all our clinicians, and one way is presenting the DAISY Award® to four nurses and two nurse leaders every quarter. To learn about the winner methodology and to nominate an AMN Healthcare nurse, visit our Daisy Award page.