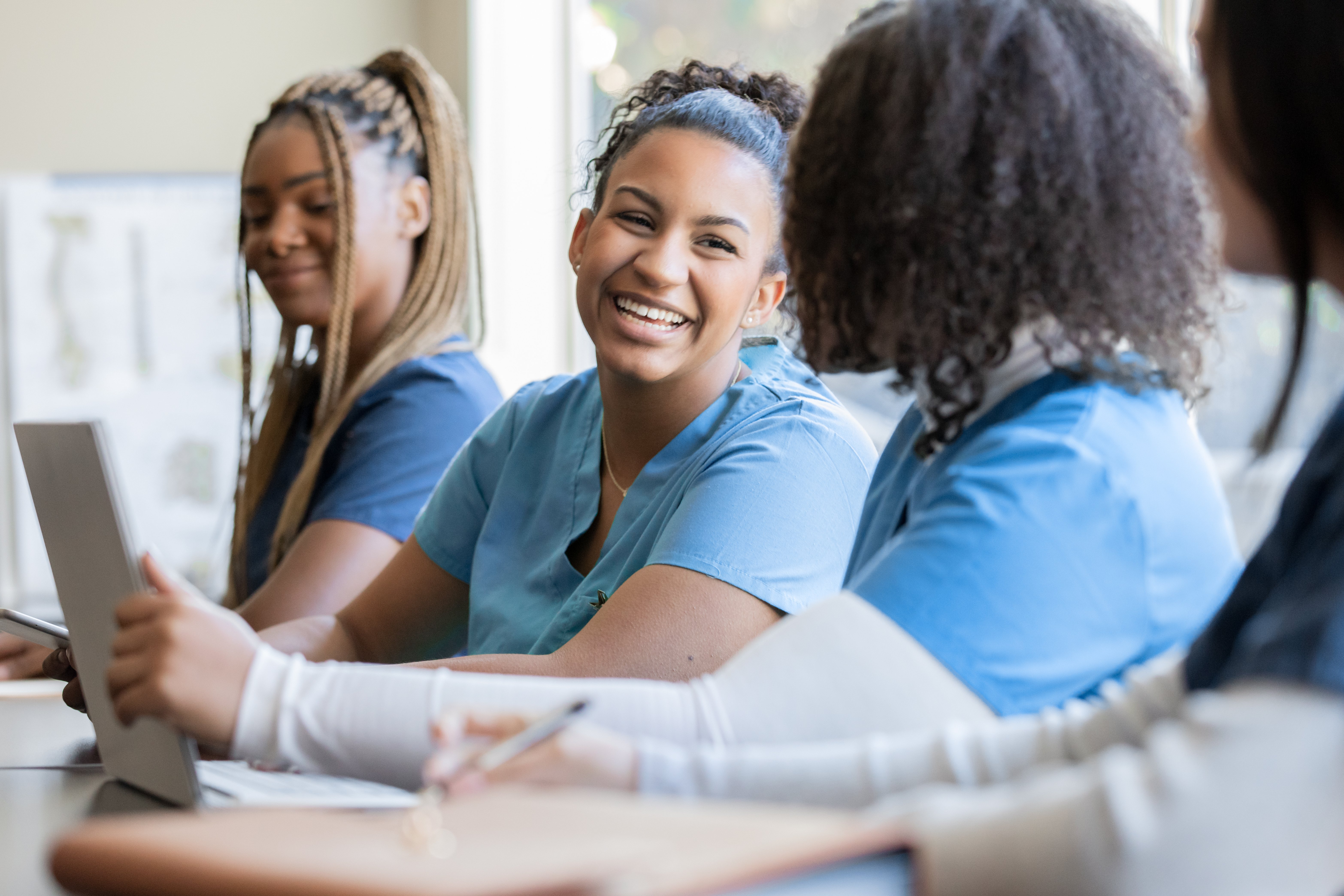 Professional Development for International Nurses
O'Grady Peyton International, an AMN Healthcare company, matches ambitious nurses from a variety of countries with top-notch healthcare institutions across the United States. You could be one of them.
Once you join the ranks of international nurses, it can be quite an adjustment—adapting to a new country, a new healthcare system, and a new group of coworkers. As such, it's natural to stay completely focused on the present, especially when you're first getting started.
But once you're settled in a bit, start thinking about your future. Jason R., a senior manager for clinician support, and Quanesha T., a clinician support specialist from O'Grady Peyton International weigh in with some guidance about how you can maintain a commitment to your professional development once you've taken a position at a U.S. healthcare facility.
The importance of professional development for nurses
It's easy to get busy doing your job and exploring your new location as an international nurse, but don't forget to think about the long-term. You can always learn more. In fact, learning is a lifelong sport, as many educators like to say. If you continue to build your knowledge base and gain new skills, you'll not only grow as a nurse, but you'll make yourself a more desirable candidate for future nursing jobs.
"You will never regret investing in yourself," says Jason.
Maximizing opportunities within your current role
Take advantage of every opportunity to shine in your current nursing role. Then you can look for opportunities to gain new skills or take on new roles.
For example, you could gain leadership skills and share what you've learned with others by becoming a charge nurse on your unit or serving as a preceptor for a new nurse. In fact, many international nurses have pursued these opportunities, according to Quanesha.
Not sure how to get there? Check in with your clinician support specialist at O'Grady Peyton International. They will provide some guidance to help you take the next step toward your goals.
Seeking additional education and certifications
The placement team at O'Grady Peyton International will make sure you have the appropriate certifications in place before you start working. For example, you will probably have to have certifications such as Basic Life Support (BLS), and some roles may require you to have Advanced Cardiovascular Life Support (ACLS). In addition, some nursing specialties may require other specific credentials.
If you need to renew certifications during your assignment, the team will also step in to help by sending reminders and helping you find avenues to complete the renewal process.
While on assignment, you'll also have the opportunity to seek out additional education and certifications to help you advance your career. O'Grady Peyton International has partnerships with a number of universities and credentialing bodies that can help nurses get discounts on fees. Many international nurses have taken advantage of the opportunity to pursue additional education and earned a bachelor's degree or a master's degree.
One essential resource that O'Grady Peyton International offers to its international nurses: access to a wealth of HealthStream courses that can help them prepare to take on assignments in the United States and stay up to date on important clinical matters.
"Those courses can help you learn how to turn challenges into opportunities," says Jason.
Networking and building professional relationships
As you build your nursing career, look for opportunities to meet and establish relationships with people who can help you along your journey.
Don't be intimidated by the prospect of networking. You can network in small ways just as easily as in big ways. For example, if you see a few other nurses gathering together at the start of the work day, make your way over to them. "Get out of your comfort zone and introduce yourself," says Quanesha. "Just start a conversation."
Before you know it, you'll have developed relationships with colleagues who will become part of your burgeoning professional network. That network can help you meet new people who may be able to help you in the present, as well as open doors to future career advancement opportunities.
Exploring career advancement opportunities
According to Jason, the O'Grady Peyton International team's goal is for every nurse who comes to the United States to be successful throughout the duration of their assignment. But it doesn't stop there.
"Once they complete their role as it's written, our next biggest goal is to convert them to become core staff at that facility," he says. "Once they do that, the sky's the limit."
Those kinds of opportunities may present themselves to you, too. Jason recalls one international nurse who started working at a hospital in St. Louis, Missouri. The nurse impressed everyone with his knowledge, skills, professionalism and team spirit, and it paid off with a terrific professional opportunity. Shortly after the nurse completed his contract, the hospital eagerly offered him a permanent job as a manager, which included a raise and a chance to influence the future of that hospital. O'Grady Peyton International continues to place international nurses at that hospital, and now he gets to mentor some of them as their manager.
Meanwhile, other international nurses have followed other paths to advance their careers. Some have become nurse managers and leaders at other facilities. Some have tried out the exciting fields of travel, local or crisis nursing with affiliate companies at AMN Healthcare and other agencies within America. Don't be afraid to pursue an option that appeals to you.
Ready to start your international nursing journey?
If you've been thinking about working as nurse in the United States, the O'Grady Peyton International team is here to answer your questions and help you through every step of the process.